Adham Sannaa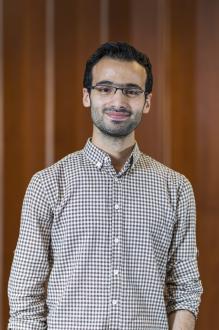 Adham Sannaa (*1988) is a Syrian architect, born in Edlib city. His passion for art in high school led him to study architecture and urban design in Aleppo University and to graduate in 2011. During university he was interested in urban planning & rehabilitation and that's why he chose the Development of informal settlement area Tal Al Zarazir, Aleppo 2011 as his graduation project. He developed his artistic and technical skills by participating in many workshops and competitions. After graduation, he worked as a free licensed architect in several architecture and interior design projects in Syria, then he moved to Czech Republic and had there more than one year professional, personal and educational experience. Adham aims to be a participant in changing the urban reality of the Arab countries, especially in Syria.
Master Thesis: Innovation and Refugee Camps: The Role of Innovation in Developing the Humanitarian System with Special Focus on Al Zaatri Refugee Camp, Jordan.
Ahmed Hassan Abayazeed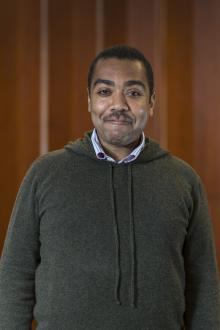 Ahmed (*1980, Cairo) is an Egyptian registered architect/urban designer as he is a member of The Egyptian Engineers Syndicate (EES) and The Society of Egyptian Architects (SEA). Ahmed received his Bachelor degree in Architecture in 2004 from The Faculty of Fine Arts at Alexandria University. After graduation, he joined one of the biggest design consulting firms in Alexandria where he gained great experiences in architectural & urban design. Later & since 2006 Ahmed joined The National Organization for Urban Harmony (NOUH) in Cairo as he worked as an urban designer at The Projects Planning Department where he  participated in various projects covering a wide range of scope & complexity with special emphasis on designing & upgrading of public urban spaces. Through this time Ahmed developed a special interest in the fields of urban management & public space issues. Ahmed participated in several workshops & summer schools concerning sustainable design, informal areas & participatory planning. He also participated in various urban, architectural & design competitions & exhibitions and he won several awards & mentions.
Master Thesis: The Mutual Impacts of Physical Settings of Residential Urban Spaces and Human Activities in Cairo's Informal Settlements A Comparative Analysis of Istabl Antar and Zeinhum Developed Housing Areas.
Ahmed Bakry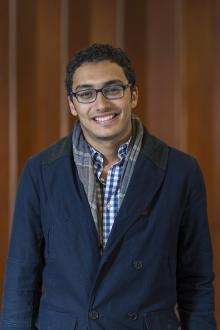 Ahmed Bakry (*1990, Cairo) got his BSc from Ain Shams University, urban planning and design department (UPD) July 2012, he works as a teaching assistant at Ain shams University Urban planning and design dep., his accumulative ranking is the first upon his colleagues; he began his pre-master studies for one year at the same college he was graduated from and then he joined the IUSD master program. Bakry began his practical work while he was studying by participating in competitions like Elopera & Elatabaa project in collaboration with (BECT) consulting office and (A2M) engineering office. He works as an executive engineer for the renovation of the IUSD branch in Egypt at Ain shams University and as a freelancer for several engineering projects. As under graduate he participated in a student exchange program between Ain Shams University, Artesis University, school of Architecture Antwerp, Belgium and l'ecole d' Belleville in Paris, France in December 2010 concerning urban issues. He also participated in different activities like Aces and Eye academic and time management programs. Respectively, Bakry can deal with several engineering and graphical programs.
Master Thesis: Integrating Local Ethnic Groups in the Process of the Regional Planning - The Case of the Nubian Village of Kostol - Komombo, Egypt.
Aly Elsayed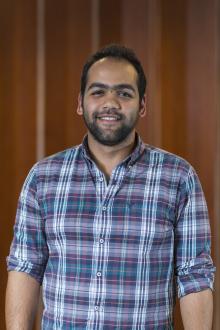 Aly Elsayed (*1990) studied Architecture in the faculty of Fine Arts, Helwan University in Cairo and received his Bachelor degree in 2011. During his studies he was engaged in several architectural and urban design projects through "EQI", a consulting agency located in Egypt in which he worked for two years after his graduation. Until now, Aly was involved in projects and studies of different scales and settings including the development of historical buildings and areas, the management of archeological sites and areas as well as the development of slums in Egypt. Meanwhile, he had the chance to work with International development agencies such as AFD & GIZ and foundations. He was also able to build basic knowledge of vernacular architecture and renewable energy solutions through the company's work in Siwa Oasis in Egypt.
Master Thesis: Investigating the relationship between Gender, Class, Cultural Centers and Scial relations in Sha'bi Districts in Cairo.
Balsam Madi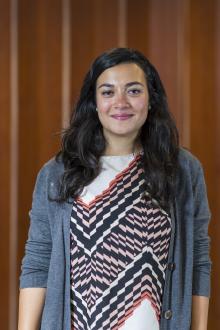 Balsam Madi (*1987, Beirut) graduated from the American University of Beirut with a Bachelor of Architecture and minors in Engineering Management and Studio Arts. Throughout her undergraduate years, her chosen design studios often reflected her interests about social, economic and environmental sustainability. Her thesis dealt with the intersection between the different drives (developers, clients and public) that shape our built environment and where tradeoffs happen. The research led her to an ideal paradigm that targets a specific scale of flexible modular housing while continuing Beirut's urban fabric and targeting the previously untargeted middle class and new "a-typical family". She believes that the architect and planner is not alone in shaping our surrounding and thus proceeded to work with a designer and builder among engineers and consultants from different disciplines under an integrated approach. She is a LEED GA accredited professional, and was one of the founding members of the NGO Save Beirut Heritage in 2010.
Master Thesis: Processes Behind Regional Planning in Lebanon's Hinterland - The Cases of the Union of Municipalities of Jezzine and the Union of Municipalities of Tyr.
Dina Mahdy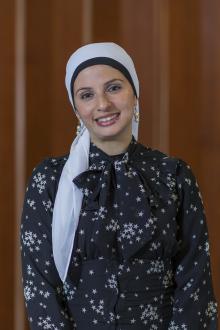 Dina Mahdy (*1984) has studied Architectural Engineering at Cairo University and was awarded BSc degree of Architectural Engineering in 2007. Her graduation project was addressing heritage conservation and rehabilitation in the old city of Cairo. As an architect, she worked for three years for an architectural firm (Ruya Designs) where she was able to develop her technical experiences. There she got the experience of site implementation, preparation of construction drawings as well as  urban and landscape design. Through that period Dina also went on with the post graduate studies at Cairo University. Then she decided to change into the academic career. In September 2010 she worked as teaching assistant at Cairo University, Faculty of Engineering B.SC. Program and then moved to the research and teaching team of the German University in Cairo (GUC). Since then she participated in different international workshops and conferences either as an organizer and teaching assistant or as a participant, with the TU-Wien (Vienna University of Technology), Staatliche Akademie der Bildenden Künste Stuttgart and Technische Universität Berlin (TU Berlin). Parallel to that she started working on her masters' individual research at the GUC under the title of heritage conservation and rehabilitation strategies for the Islamic Cairo district at the Mamluks' era.
Master Thesis: Dynamics of Development in Rural Egypt to New Desert Communities: The case of the Basaisa.
Dima Dayoub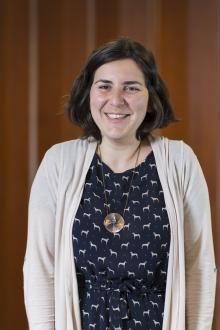 Dima Dayoub from Syria holds a BSc degree in Architecture (2008) as well as in English Literature (2011). She joined a consultancy firm in Aleppo for 3 years working as an architect on restoration and rehabilition projects in the old city of Aleppo along with being a teaching assistant at Ittihad Private University for one academic year. She also enrolled in an urban planning master program at the University of Aleppo for one year in which she went for a joint urban design workshop in Cottbus. Then she moved to Istanbul where she worked in an architectural practice for the past year and a half mainly on design proposals for hotels and urban regeneration projects. She joined IUSD to learn more about the analysis and design of urban environments and to build a critical perspective around urban issues.
Master Thesis: Wartime Coping and its Reconfiguration of the Urban Space - The Case of Aleppo City During the Protracted Syrian Conflict.
Gregor Schopf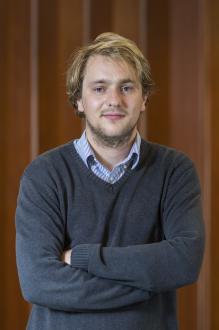 Gregor Schopf (*1988, Halle) studied Integrated Design at the Hochschule Anhalt in Bauhaus City Dessau, Germany. There he experienced design in a generalized and interdisciplinary way. In 2010/2011 Gregor absolved an exchange semester at King Mongkut´s Institute of Technology Lad Krabang in Bangkok. Among other things, he dealt with ancient Thai production methods by using local materials in order to meet the requirements of contemporary needs.In June 2012 Gregor received his Bachelor Degree in Integrated Design. In September 2013 he joined the IUSD MSc program in Stuttgart to broaden his academic horizon and to expand his capability as a generalist in the field of sustainable design in the context of urban development.
Master Thesis: Branding Cairo (Un)intended - Influences on the German Tourist's Perception of Egypt's Capital.
Friederike Thonke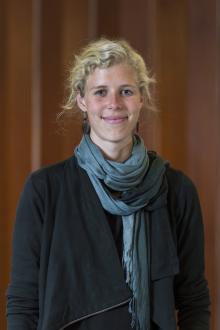 Friederike Thonke (*1989) went to Northern Ghana in 2008 to work in the field of micro-financing and took part on a school project. With this experience and with the inherent wish to become an architect with the ability to use architecture as a helpful tool to improve life standards, she started her studies of architecture in 2009. For her bachelor thesis she chose to redesign an old car park into a multipurpose center for young homeless. Therefore she held workshops with them to better understand their lives, ideas and dreams. Environmental and sustainable aspects were taken in consideration, but in the same way socially, psychologically, and politically sensitive approaches were applied. To Friederike, architecture is a field to express creativity as well as social empathy and liability. For her it is significant to realize and emphasize the responsibility 'we' as planers have – therefore a holistic approach in the current development of planning is desperately needed. After her graduation she worked with a Nairobi-based NGO in participatory upgrading of informal settlements. Her further studies and work is and will be lead by the hope for mutual understanding and learning between all parties.
Master Thesis: Rethinking Relocation in the Context of Informal Areas - Critical Analysis of Processes and the Quality of Life: The Case of Istabl Antar (Cairo).
Lisa Gänsbauer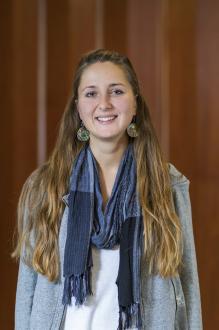 Lisa (*1989) started her studies of architecture and urban planning at the University of Stuttgart in 2009. During one international year she studied in Lima, the capital of Peru with the key issues of water shortage, informal settlements and lack of green spaces. In Lima she worked at the Metropolitan Planning Institute on an urban development plan for Lima 2025 and a water sensitive urban design approach for the city as part of the Lima Waterfront (LiWa) project. The program Construye Idendidad (Construir Identity) gave her the opportunity to get to know earth as a resilient construction material. During a workshop in the Andes she helped to remodel traditional houses and created a new public space for the village. During her studies and traveling different countries she found a great interest in the development of cities and their water related issues. Therefore she enrolled in the IUSD program after graduating with a Bachelor degree in July 2013.
Master Thesis: Towards a Water Sensitive Development Strategy for Siwa Oasis.
Jude Al Issa Zada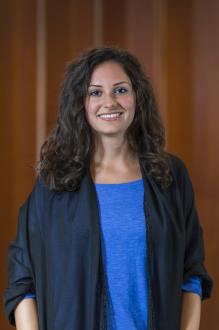 Jude Al Issa Zada (*1989, Amman) obtained her Bachelor of Science in Architecture at the School of Architecture and Built Environment at the German Jordanian University (GJU), Amman, in 2012. During her studies she had internships in several architecture offices such as Al-Nasser Architects in Amman, Arcass Freie Architekten BDA in Stuttgart and Badran Design Studio in Amman under the supervision of Architect Rasem Badran and Architect Jamal Badran. Jude has become very interested in the fields of urban planning and landscape architecture during her studies and gained professional experience which motivated her to enter urban development competitions. She was short listed in the competition Port Gioia Tauro Vision 2030 and won second place in Project Manifesto's: Holes on Hold competition in Amman. Since her graduation, Jude has worked as a research and teaching assistant in the department of architecture in GJU where she supervised students from all classes in the fields of design, landscape and urban regeneration.
Master Thesis: Place Attachments of Different Influx Groups in West Amman, Jordan - The Case of Palestinians and Iraqis.
Mennatullah Hendawy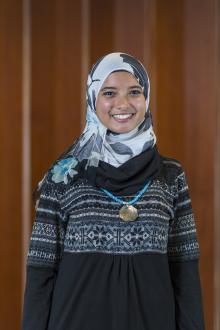 Mennatullah Hendawy (*1990) was working as Teaching Assistant in Ain Shams University, Egypt. In academia she aimed to become an Urban Planning & Design researcher and teacher mentoring students. Beside Research and Academia, she strongly believes that change comes from within, that's why she practices planning as a tool to empower people to meet their needs. In 2012 she was awarded the "Ideal Student Award" with First place on the faculty and third place on Ain Shams University. Furthermore she got involved in various community work which inspired her to acquire theoretical and practical knowledge focused on the environment and the human capital as starting tool for reformation and development. That's why her interest in research focuses on participation, social inclusion, empowerment and sustainable development.
Master Thesis: Connecting Urban Policy Making and Implementation - The Case of Maspero, Cairo, Egypt.
Nada Jouni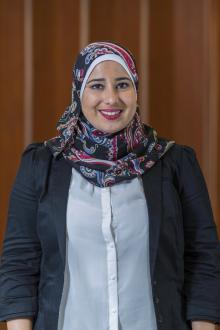 Nada Jouni (*1989, Lebanon) received her Bachelor of Science in Landscape Design and Ecosystem Management and Ingenieur Agricole diplomat the American University of Beirut in 2012, Faculty of Agriculture. For her graduation project, she worked on reviving a natural pond located in the village Roumine in South Lebanon. With community landscape as her focus, thoroughly studying and following the case of an under-evaluated rain-harvesting rural heritage that has been practiced for centuries, she carefully designed a community space around the pond, respecting the different environmental and community needs while raising awareness to the importance of the community's traditional and cultural practices. With her design skills and expertise in agriculture, urban development and ecosystem management, she worked on landscape projects and assisted in construction and tree planting while working with Solidere (Architecture and Planning Industry) in 2010 and IBSAR (Nature Conservation Center for Sustainable Futures) for 3 years. Moreover, Nada assisted in landscape projects with an agriculture engineer (GIZ Lebanon) then took on some freelance projects for a year, designing sustainable outdoor spaces and agricultural areas of three residential buildings and two villas.
Master Thesis: Towards Multifunctional Water-Harvesting Landscapes - The Case of Akoura.
Maram Sha'ban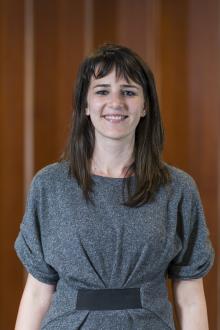 Maram Sha'ban (*1987) was born in Jerusalem and has lived in Amman since the early 90's. She gained her B.S in Architectural Engineering from Jordan University in 2010. Throughout her B.S studies, Maram took part in extracurricular excursions to different cities for a close examination of the existing urban models. Having been also a part of the urban fabrication workshop held at IaaC in Barcelona, has enabled her to adopt further urban awareness. In 2009, she was an exchange student through IAESTE, where she had her 1st technical experience in an inter-cultural living in Tunisia. Shortly after graduation, she worked as an architect with the United Nations for Relief and Work Agency for Palestine Refugees (UNRWA) for two years.  Her work experience with the camp improvement project/UNRWA has enriched her knowledge about urban improvement from grass-root.  She was involved in the procedural production of Talbieh and Husun Camps improvement plans (CIP) in Jordan, and concurrently worked on Talbieh shelters' assessment for rehabilitation based on self-help. Between 2011 and mid 2012, she led the production of Talbieh Camp improvement material for two exhibitions, one in Amman and another in Berlin, tackling the Palestinian camps and CIPs in the region. Later, she joined an architectural office based in Amman that enhanced her knowledge in local architectural methods.
Master Thesis: Resistive Urbanism in the Spatio-Genesis of Self-Awda: Spatial and Non-Spatial Variable of IDPs' Self-Repatriation to Palestinian Depopulated Villages.
Razan Shadfan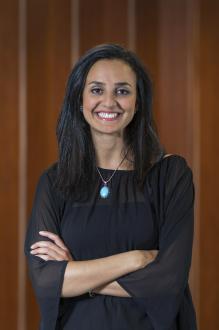 Razan (*1987) was born in Amman, Jordan. Razan's interest in urban studies started to develop during her senior year at the University of Jordan, specifically during the graduation project 'Integrated Community-Based Tourism Project for Um Sayhoun Village- Petra-' which was shortlisted and exhibited at the CSBE Graduation Projects' Award in Bahrain. Shortly after graduation, Razan worked on the renovation and design of the Nabulsi heritage house as part of the Tal Hisban Archaeological Restoration and Planning Project in partnership with Andrews University of Michigan. Soon after, she started her journey in working for local and regional offices in Amman, Jordan and experiencing the diverse world of architecture. During her employment years, she worked on the urban planning and design competition of Palace lala yedouna in Fez, Morocco. Then she worked in Um Sayhoun village in Petra as a volunteer on a community-architecture research: a risk-mapping project at the Petra Archaeological Park under UNESCO office management, in partnership with RLICC from Leuven University in Belgium, upon which a publication was released.
Master Thesis: Host Communities Between Solidarity and Hardship - the Trends of Housing Transformation in Border Cities Hosting Refugees: The Case of Mafraq City.
Maroua Ennouri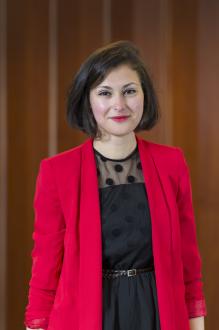 Maroua Ennouri (*1988, Bizerta) studied Architecture at the National School of Architecture and Urbanism of Tunis (ENAUT) from 2007-2013. During her studies she attended many workshops in Vernacular Architecture in Tunisia. She graduated in June 2013 with honors. During 8 months she had a professional internship. She worked on several projects dealing with the problematic of sustainable architecture with "Atelier AWS", an unique architecture firm in Tunisia that designs wooden buildings focusing on lumber construction. There she discovered her interest for sustainable design. 
Master Thesis: Ruins of Urbanity: Rethinking the Prospective of Urban Voids for a Sustainable Urban Development with Special Focus on Tunis.
Mohammed Fawzi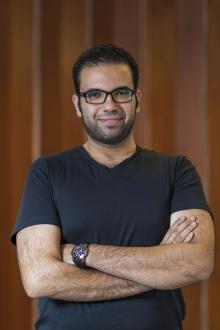 Mohammed Fawzi (*1990, Cairo) studied Architecture, Urban Design and Urban Planung at Ain shams university in Cairo and graduated in 2012. Mohammmed was assigned as a teaching assistant in the same faculty and worked there since. Mohammed started working on projects before his graduation,  participating in several projects like working as a coordinator in the ECG UTW initiative for students trainings, for the refurbishment of the IUSD headquarters in Cairo and planned the interior design for many apartments and offices. Mohammed started his Academic career driven by the passion and the sincere believe of the importance of the education trying to combine both science and fun in the education process. That's why he participated as  a moderator in ACES academic program activity, in the ISLC cultural conference in the AUC  and in the scientific committee of the department. Mohammed participated in many activities abroad like the student exchange program in 2010 in Belgium and France. Also he was a member of the technical committee for EZBET competition (2013) in Stuttgart University.
Master Thesis: Rethinking the Urban Development Process in Egypt's Informal Settlements.
Stefanie Wladika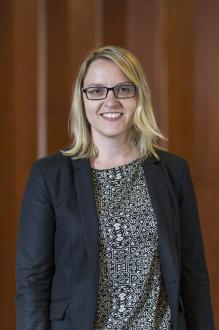 Stefanie Wladika studied Architecture at the Universidade Lusíada de Lisboa and the University of Technology Cottbus (BTU) where she graduated as an engineer in Architecture (Dipl.-Ing.). During her studies she developed a strong interest in intersections between architecture and urban planning - focusing on renewal and strengthening of historic city quarters in Germany and the Middle East. She gained intensive practical and international experiences while working for different architecture offices in Germany and participating in Joint Urban Design Workshops in Syria, Egypt and Germany. Additionally, Stefanie worked as a student research assistant and after her graduation as a research assistant for the Middle East Cooperation Unit (MEC Unit) at the Institute of Urban Design and Development of the University of Technology Cottbus. Currently she is working for an architecture and urban planning office in Frankfurt am Main, co-operating on projects in the MENA Region.
Master Thesis: Port Said - No Future Without the Past - Integrated Rehabilitation Concept for the Urban Heritage.
Neila Zouainia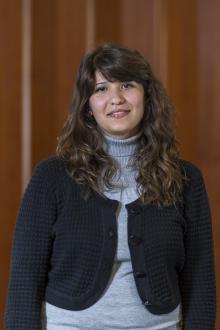 Neila Zouainia (*1990, Oran) graduated in Architecture at the University of Sciences and Technology of Oran (U.S.T.O) in 2012. During her studies, she took part on a local association called "Bel Horizon" where she was an active member where she participated in different cultural events, architectural manifestations and workshops. Passionated by architecture, she devoted her extracurricular activities to internships in different architecture offices in her home country. Furthermore, to extend her knowledge, she got involved in an international association 'Rampart', where she participated to construction sites and workshops. Since her senior year her motivations towards architecture have changed especially after working on the rehabilitation of a railway line in the centre of Oran. Her interests were not about the buildings themselves but more about their issues related to the city having a close relationship with the cultural aspects, history and the human behavior. 
Master Thesis: Learning from Informality: Conflict between Institutional Planning and Practice in Oran Algeria
Teresa Fellinger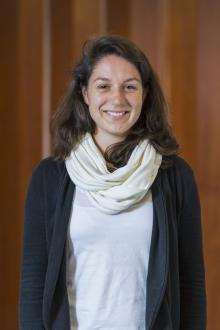 Teresa Fellinger(*1989, Passau) decided after finishing school in 2008 to volunteer in Mombasa, Kenya, for six months. She helped renovating an orphanage and trained a men soccer team. From 2009 to 2013 she studied 'African Development Studies in Geography' and 'Applied African Studies' at the University of Bayreuth. During her studies she realised that lectures which broach the issue of urban development in Africa caught most of her attention. That's why she decided to do within her Bachelor studies an eleven month internship with GIZ. For six month she worked in the Sector Project 'Policy Advice on Municipal and Urban Development' at GIZ Headquarters in Eschborn. Afterwards she collected some work experience in New Delhi, India. She was part of an appraisal mission for an upcoming programme called "Inclusive Cities" by which GIZ would like to promote in-situ slum-upgrading to the Indian Government. Therefore she travelled with national and international consultants to several cities in India, visited slums and resettlement areas and talked with local politicians. During her studies she was selected as student assistant at the chair of Population and Social Geography and tutor for Kiswahili. Teresa is highly interested in finding solutions and approaches for cities in developing countries facing rapid growth through the continuing migration into the cities.
Master Thesis: The Relationship Between Built Environment and Obesity - An Assessment of Cairo's Obesogenic Environment.
Tayseer Khairy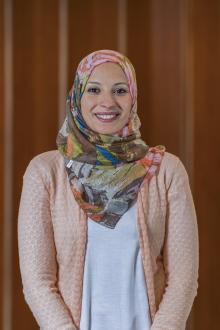 Tayseer Khairy graduated from Tanta University in Egypt with a Bachelor of Architectural Engineering in 2002. She gained ten years of experience working on architectural and interior design of different kinds of residential, administrations, services and recreational buildings in UAE & Egypt. As a social and environmental activist with management and leadership skills she worked with national, international organizations and private sector firms in community development projects. In 2011, she joined URBANICS, For Sustainable Natural and Built Environment, assisting the director in preparing and monitoring departmental goals. She served as representative of the entity at state, regional and national organizations, boards, councils, and committees. Her work included fundraising, networking, research and helping as Community Architect. Tayseer is passionate about community development projects and she believes in collaborative participatory planning development with local inhabitants, driven by certain values of qualities and initiatives within a sustainable frame work that benefits people and saves our planet system. As an environmental activist she  organized and supervised many campaigns and events related to climate change and its impact on urban livelihoods, waste management, water crisis, sustainable architecture and capacity building for young youth with schools and NGOs. She is also founder, board member and member in many associations and NGOs which activities are covering a wide range of development, sustainability and projects with environmental scopes: she travelled to USA, Denmark, Jordan, Qatar and KSA gaining an extensive cross cultural experience. She felt the need to enrich her knowledge and experience within academic research and therefore joined the Integrated Urbanism and Sustainable Design program in 2013.
Master Thesis: "Kafr Wahb" Village as a Case of Social Innovation - Understanding Social Innovation in Rural Community Development in Egypt.
Yasemine Hallawa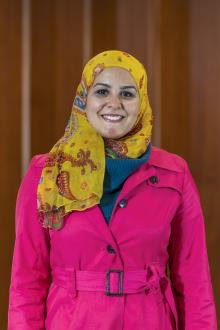 Yasmine Hallawa (*1990) obtained her BSc in Architecture in 2011, Ain Shams University, Cairo then finished her Pre-courses of the MSc in Urban planning in 2013 there. She completed a Global business institute Entrepreneurship course (Mini MBA) in Kelley School of Business, IU, USA in summer 2012 and led her business incubator project team, ranked in the top ten to present it in the US Department of State. She attended several summer schools and workshops focusing on urban regeneration, governance and active citizenship in Cairo, Alex, Aswan, Siwa Oasis, Berlin, Hamburg, Cologne and Stockholm, where she studied in an intercultural context the local communities and urban transformation. She got very much interested in viewing challenges through a holistic approach, linking architecture, urban planning and economic feasibility seeking sustainable solutions. She worked for two years in IDG (Architecture and Urban Planning Consulting Firm) and for 3 months in Archinos Architecture, Cairo, where she carried out architecture, urban, interior and graphic design projects and Academic research.
Master Thesis: Rapid Growth Dynamics in Sensitive Urban Ecosystems: The case of Siwa Oasis.